A small island with the most beautiful nature in Denmark
Inside GeoCenter Møns Klint, lots of play and knowledge about nature, geology and Denmark's exciting past await! Outside the centre, you are welcomed by fun activities and unique nature.
Experiences both indoors and out
GeoCenter Møns Klint is located at the heart of Denmark's most stunning natural scenery. Over 20 exciting, educational and fun activities await children and adults – both inside the centre and out in the distinctive nature.
The guides are the best storytellers
The exhibition at GeoCenter Møns Klint has been excavated and built into the cliff and structured as an exciting journey through the past 70 million years. The very best way to learn about Denmark's wild past is to follow the guides around the beautiful, interactive exhibits and hear their exciting stories. You can also learn about the past through cool workshops, where you can examine fossils with the nature guide and work creatively.
3D films and digital experiences
If you dare, you can also watch the stories brought to life in our 3D cinema. For example, the wild 3D films about the time when dinosaurs ruled the earth, or about the universe and our own planet. You can also try digital activities, like solving the mystery of why four phytosaurs (crocodile-like lizards) became extinct 210 million years ago, or put on the VR goggles and take flight as a peregrine falcon hunting its prey – at 320 km/h.
Out in the magical nature
Møns Klint towers 128 metres above sea level. Nature at Møn is unique, and you will find both plants and animals that live nowhere else in the country. Here, you can try aerial walkways, mountain biking through the forest, snorkelling along the cliffs or just enjoy the silence as you go looking for orchids, peregrines or fossils – in Denmark's most beautiful natural surroundings.
NEW THIS YEAR
Under the theme "Hidden treasures of the cliffs", two new exhibitions on amber and flint are opening. Start getting excited about even more thrilling stories about our distant past.
STORIES OF A WILD PAST
Join us below the surface when we go hunting for Denmark's wild past together. Watch the wild 3D films on the formidable sea monsters and ancient dinosaurs of the Cretaceous Period in our 3D cinema, see fossils in the exhibition and find your own 70 million-year-old traces of the past on the beach by the cliff.
NEW
"Hidden treasures of the cliffs" – two fascinating exhibitions about amber and flint.
Read more: www.moensklint.dk
Møns Klint towers an impressive 128 metres above the sea
The unique nature of Møn is an official UNESCO World Heritage candidate.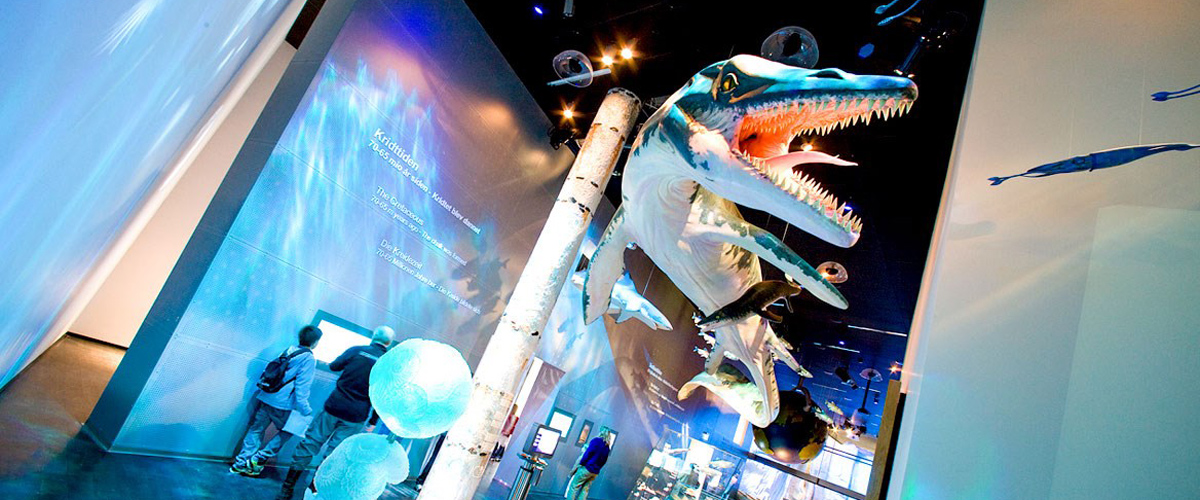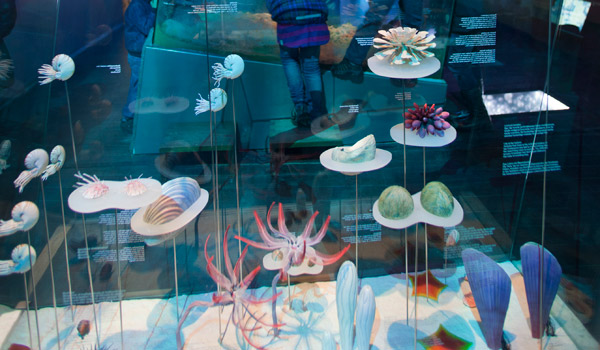 A COOL AND MODERN
SCIENCE CENTRE